Francis Aaron is a prison guard in Fiorina 'Fury' 161 Class C Work Correctional Unit in the film Alien 3. He is the assistant of Superintendent Andrews. Prisoners referred to him by the nickname "85", after finding his IQ score, which annoyed him. He rejected Ripley's insistence that the prisoners must try to fight the alien, and repudiated her claim that Weyland-Yutani would collect the alien instead of them.
Aaron was one of three custodian at Fiorina 'Fury' 161 Class C Work Correctional Unit along with Andrews and Clemens.
Characteristics
Edit
Reference stats table.
Appearance
Edit
Appearances in the following;
Alien 3 (film)
Wears a grey/green bomber jacket, grey/brown trousers, cap and dog tags.
Interactions
Edit
Continuity
Edit
Aaron's character is played by Ralph William John Brown.
Aaron is shot and killed as he tries to attack Bishop.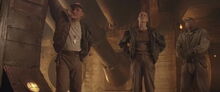 Aaron's bomber jacket, cap and dog tags were new when filming but the trouser had been distressed for production like the other actor's and featured the Weyland-Yutani insignia on the back and tags.
Production
Edit
In the film Aaron is usually criticized when ordering inmates for any tasks and follows with his personally as he rarely communicates even as a custodian.
Post Production
Edit
A number of inmates costumes were reused in other productions like Demolition Man and later were made available for sale.
The film Alien 3 is set after the film Aliens and because shortly afterwards as they escape a fire occurs aboard the Sulaco with Ripley's, Hicks', Newt's and Bishop's stasis units being ejected into the EEV.
References
Edit
Citations
Edit
Footnotes
Edit
Ad blocker interference detected!
Wikia is a free-to-use site that makes money from advertising. We have a modified experience for viewers using ad blockers

Wikia is not accessible if you've made further modifications. Remove the custom ad blocker rule(s) and the page will load as expected.