The Security Access Tuner is used by Amanda once collected from aboard the Sevastopol.
Description
Edit
Collected in the Spaceflight Terminal but not operational until the batteries are collected in the archives part of Mainframe Systems in Facility Control. Once activated the unit can be used instead of a security card for access. The Access Tuner has the access features similiar with hacking devices that appear in the film Aliens and the game Aliens v Predator and Aliens: Colonial Marines. Although a hacking device didn't feature in the film Alien the unit still features the Lo-Fi Sci-Fi qualities used for all the equipment aboard the spacecrafts.
Construction
Edit
---
Made from a synthetic alloy, the Access Tuner is designed to interface equipment and terminals, then record and transfer data.
Tactical Uses
Edit
---
The device is used in Alien: Isolation as one of the collectable items of equipment. Like any items can be held and accessed from Amanda's backpack, made for door and terminal access when pass cards or welders aren't necessary or available.
Characteristics
Edit
Reference stats table.
Appearance
Edit
---
Appearances in the following;
Alien: Isolation

Variations
Edit
Interactions
Edit
Continuity
Edit
When the unit is held access is by pressing a button and the unit follows through the access routine. The unit is upgradable and keeps track of system bypasses and system detections, when activated a light rotates about the screen and a simple figure display is adjusted until the unit accessed is unlocked.
Jude Bond art lead said about the technology, "Everything had this 1970s feel of the future" and "everything in the game all the technology has this kind of push button feel to it." ~ Alien: Isolation - Behind the scenes, trailer. They drew a lot of inspiration from the 1970s and the Alien film, spending a lot of time getting the feel and look of the Nostromo and the Narcissus and equipment that would be found aboard them.
Production
Edit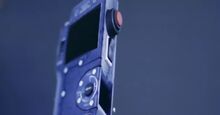 Designed by Gary Napper, Clive Lindop and Jude Bond, the unit features a number of buttons and switches with a dial select feature, coloured in a dark blue and black colour similiar with equipment aboard the earlier craft.
The Access Tuner like the motion tracker can be accessed from Amanda Ripley's backpack, in game blur appears like for other equipment allowing for focus on screen but this can be adjusted.
PRC-90 - ☀https://www.google.com/search?q=prc+90&tbm=isch&tbo=u&source=univ&sa=X&ved=0CB4QsARqFQoTCMi5itiL7cYCFcSciAodMcUKlA&biw=1280&bih=866#imgrc=_
References
Edit
Citations
Edit
Footnotes
Edit
Ad blocker interference detected!
Wikia is a free-to-use site that makes money from advertising. We have a modified experience for viewers using ad blockers

Wikia is not accessible if you've made further modifications. Remove the custom ad blocker rule(s) and the page will load as expected.