Alien - Predator: Collectables
Alien v Predator - AVP Alien Egg 1:1 Prop Replica
At 25 inches tall, base included, this prop replica egg of the most feared alien in the universe can finally be incubated in your own home.
Captive Alien Queen Bust - Alien vs Predator

The Captive Alien Queen is depicted here, writhing against the chains that hold her, her acidic blood oozing from multiple wounds. This mini bust is one of the most dynamic and kinetic that Palisades has ever produced.
Aliens - Alien Signature Series Statue
The Alien Signature Series: Classic Alien Statue Is A Film-accurate Representation Of The Creature From The Original 1979 File, Alien. Standing A Monstrous 16" Tall, The Classic Alien Statue Features A Stunning Attention To Detail, With Sculpture And Paint Applications Precisely Replicating The Monster In The Film. This Marks The First Time That Palisades Has Created A Full-bodied Statue Of The Original Creature. Strictly Limited To 1,500 Pieces And Comes Packaged In A Full-color Box. Serial Numbered.
AvP - Celtic Predator Bust

One of the most memorable creatures from Alien vs. Predator, one that seemed to capture the imagination of audiences everywhere, is the Celtic Predator. Perhaps this is because his mask is one of the most terrifying and detailed ever featured on one of the galaxy's most feared hunters. Palisades Toys has brilliantly captured the look of the Celtic Predator, complete with a removable mask, as a mini bust. Standing 8 inches tall on a base and pedestal designed to replicate the Aztec temple from the film, the Celtic Predator Mini Bust is sure to elicit fear, whether you choose to display him with mask or without! Manufacturer: Palisades Toys.
AvP2 - 1:4 Scale Predalien Maquette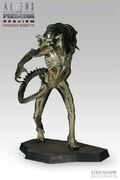 The PredAlien Maquette is cast in high-quality polystone, and features all the fearsome details that went into designing the full-sized creature in the film. Each piece is hand-cast, hand-finished, and hand-painted to exacting standards, then individually hand-numbered. In Aliens v Predator: Requiem, a lone Predator is sent to Earth to destroy a crashed ship from his home world, containing deadly Xenomorphs. Before he reaches the wreckage, however, several Xenomorphs escape into a nearby town. As the Predator hunts and kills the acid-blooded aliens, a new, even more deadly creature is tracking the Predator. Manufacturer: Sideshow/Amalgamated Dynamics Inc.
Master Replicas Alien Motion Tracker
Master Replicas Alien Motion Tracker with working lights & sound.
Predator - Bronzed Predator Mask
A Fantastic looking full size wearable mask with a chain so you can hang it on the wall.
Predator - 1:3 Scale Bronze Powder Predator Bust
The 19" high Predator Statue has been re cast in Powdered Bronze Resin making the bronze finish part of the entire product and therefore is not painted.
Predators Warrior Movie Mask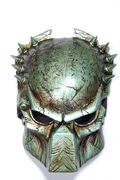 The newest edition from the Alien v Predator Movie, This face mask is one of a kind with a solid well built construction. The Mask is very thick with see through eye piece and spikes on top. It has battle scratches and looks battle worn. This AVP Mask comes with a Velcro strap, there is also a wall hanging mechanism which you can display anywhere in your home.
Predator's Mask
This Predator's Mask has a red laser targeting and is fitted on a display stand.
Alien vs Predator - AVP Requiem PredAlien 1:1 Scale Bust
Taken directly from moulds for Amalgamated Dynamics Inc's screen-used costumes and props, each bust is individually painted and finished, each with its own unique quality and detail that is the trademark of a handcrafted Sideshow Collectibles product. Piece stands roughly 24 inches tall.
Predator Movie Film Cell
Professionally framed film footage display of 'Predator' Arnold Schwarzenegger/Predator.
Features two sets of 4 cells of original 35mm Predator film footage.
Mounted with colour images & engraved brass plaque.
Housed in a custom made black frame.
Certificate of authenticity attached to the rear.
Alien v Predator - Trading Cards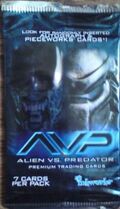 The 90-card series features include, all the action and suspense of the movie story, behind-the-scenes look at the making of the film.
AUTOGRAPH CARDS - 7 cards featuring autographs of the stars of the movie, including: Sanaa Lathan (Lex), Colin Salmon (Max), Ian Whyte (Scar), Sam Troughton (Thomas), Agathe de la Boulaye (Adele), Joseph Rye (Connors), Adrian Bouchet (Sven).
SURVIVAL OF THE FIERCEST - 9 card foil puzzle featuring the showdown - Alien vs. Predator.
THE DEADLIEST GAME - 6 foil cards that take a look at the history and background of the Aliens and Predators.
PIECEWORKS® CARDS - 7 cards featuring pieces of the actual costumes worn on-screen in the movie. The costumes include: Parka worn by Sanaa Lathan as Lex. Parka worn by Lance Henriksen as Weyland. Overalls worn by Carsten Norgaard as Quinn. Jacket worn by Colin Salmon as Max. Trousers worn by Colin Salmon as Max. Parka worn by Tommy Flanagan as Verheiden. Parka worn by Joseph Rye as Connors.
BOX LOADER CARDS - 3 different box loader cards - Blood Hunters.
CASE LOADER CARD - numbered SKETCH CARD from one of three comic artists. Artists are: Tone Rodriguez, William O'Neill and Joel Gomez.
SPECIAL BONUSES - As a special bonus for collectors some of the hand-drawn sketch cards that are also being used as case loaders.
Alien v Predator: Requiem - Trading Cards
AUTOGRAPH CARDS – 10 different cards featuring, John Ortiz – Sheriff Morales, Reiko Aylesworth - Kelly, Johnny Lewis – Ricky, David Paetkau – Dale, Ariel Gade – Molly, Kristen Hager - Jesse, Gina Holden – Carrie, Robert Joy – Garber/Jones, Kurt Max Runte – Buddy, Ian Whyte – Predator.
PIECEWORKS® CARDS 11 different cards featuring, Jeans worn by Reiko Aylesworth as Kelly, Jeans worn by Steven Pasquale as Dallas, Jacket worn by John Ortiz as Sheriff Morales, Shirt worn by Johnny Lewis as Ricky, Dress worn by Gina Holden as Carrie, Top worn by Kristen Hager as Jesse, Dual Swatch Card - Top and bottom worn by Ariel Gade as Molly, Vest worn by Steven Pasquale as Dallas, Dual Swatch Card - Shirt and t-shirt worn by Johnny Lewis as Ricky, Shirt worn by Chelah Horsdal as Darcy, Shirt worn by Meshach Peters as Curtis.
SKETCH CARDS – Hand drawn sketch cards from a team of sixteen top sketch card and comic artists. Each card is a one-of-a-kind, individually numbered work of art.
BATTLEFIELD ON EARTH - A 9 card foil puzzle.
MASSACRE ON MAIN STREET - 6 special cards.
DEADLY - 3 cards.
AVP UNLEASHED - A case loader card.
"Fighting back" - 2 unique, PUZZLE PIECEWORKS® CARDS.
Ad blocker interference detected!
Wikia is a free-to-use site that makes money from advertising. We have a modified experience for viewers using ad blockers

Wikia is not accessible if you've made further modifications. Remove the custom ad blocker rule(s) and the page will load as expected.