Alien Anthology 35th Anniversary Edition
Edit
---
Alien Anthology 9 disc first press limited edition H.R. Giger Blu-ray Collection.
A tribute to the artist H.R. Giger who died 2014. Included are 8 H.R. Giger's art set included End of the Legendary Artist 2 versions of every film Original comic Alien The Illustrated Comic Original theater four poster set H.R. Giger memorial booklet H.R. Making Dreams & Nightmares Come True.
---
Alien

Aliens

Alien 3

Alien 4

Alien Anthology Making Collection

Alien Anthology Archive Collection

Prometheus 3D

Prometheus 2D

Prometheus privilege disk

---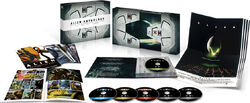 Alien Anthology 2014 is also available in a limited edition Nostromo packaging, part of Alien 35th anniversary. This version is in a 5 film 6 Blu-ray format but doesn't include H.R. Giger's tribute and is available as a JB exclusive from October 2014.
Ad blocker interference detected!
Wikia is a free-to-use site that makes money from advertising. We have a modified experience for viewers using ad blockers

Wikia is not accessible if you've made further modifications. Remove the custom ad blocker rule(s) and the page will load as expected.