Alien Breed for iOSEdit
---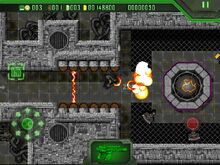 Team 17 Digital has released their all-time
classic Alien Breed to the iOS platform on 1st August 2012.
Alien Breed retains the challenging gameplay of the original game on the Amiga, CD32 and MS-DOS, including in-game store for extra ammo, keys and weapons purchases.
---
Alien Breed GameplayEdit
---
Alien Breed iOS features three different game modes, the original 1991 Alien Breed and Alien Breed Special Edition and an all new experience in the shape of Alien Breed Convergence, 4 entirely new levels that intersect with the original Alien Breed story.
Featuring touch-screen pad controls, Alien Breed will also support the Ion iCade and Gametel Controller including a choice of either old-school Amiga graphics or new retina-display imagery, Classic Mode or Enhanced Mode.
---
Ad blocker interference detected!
Wikia is a free-to-use site that makes money from advertising. We have a modified experience for viewers using ad blockers

Wikia is not accessible if you've made further modifications. Remove the custom ad blocker rule(s) and the page will load as expected.