Anesidora is a spacecraft which was already at the Sevastopol when Amanda Ripley arrived. The Alien aboard the station was though brought there by Marlow the captain, who also had the Nostromo's flight recorder.
Characteristics
Edit
Reference stats table.
Appearance
Edit
Appearances in the following;
Alien: Isolation
Other craft
Edit
Interactions
Edit
Continuity
Edit
In the Gamescom video which was released during the show Amanda Ripley was speaking to Marshal Waits along with Samuels on the subject of the alien aboard the Sevastopol, while Amanda tended Taylor's injures.
The Anesidora first appeared in a wallpaper which was released on the Alien: Isolation website, later Anesidora was the designation of Priority One: Audio Log 005 released in August.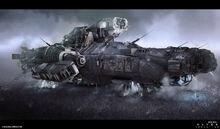 Concepts for the installation, spacecrafts and living areas were made by Bradley Wright.
Production
Edit
In production lead artist Jude Bond with lead level design Iain Wright and lead environmental artists Mark Radcliffe and Paul Abbott brought these concepts to life.
Drawing influences from the film Alien these artist included as many ideas from the film as they could. Ideas included the dated terminals, input devices, equipment, doors and dark but electrical corridors. Lead lighting artist Ben Hutchings was responsible to recreate the darkness with lead UI artist Jon McKellan creating the terminal displays and access units.
In game the shadows and darkness played a large part leaving Amanda with the need to find equipment like batteries for her flash light and flame thrower fuel, both pieces of equipment capable of lighting the way, with flares also available.
The Anesidora drew on designs from the M class starship the Nostromo but with a multi-level design that was capable of landing on the surface of a planet. These ideas were implemented by Iain Wright, Mark Radcliffe and Paul Abbott.
Although some areas are altered a consistency is continued in the air ducts, ladders and vents that link the areas following through from the Nostromo, these are the same same aboard the Sevastopol, Torrens and Anesidora.
The game Alien: Isolation is set as a continuing story after the film Alien and before the film Aliens.
References
Edit
Citations
Edit
Footnotes
Edit
Ad blocker interference detected!
Wikia is a free-to-use site that makes money from advertising. We have a modified experience for viewers using ad blockers

Wikia is not accessible if you've made further modifications. Remove the custom ad blocker rule(s) and the page will load as expected.