Concepts
---
Concept art is a form of illustration where the main goal is to convey a visual representation of
a design, idea, and/or mood for use in films, video games, animation, or comic books before it is put into the final product. Concept art is also referred to as visual development and/or concept design.
A concept artist is an individual who generates a visual design for an item, character, or area that does not yet exist. This includes, but is not limited to, film production, animation production and video game production. A concept artist may be required for nothing more than preliminary artwork, or may be required to be part of a creative team until a project reaches fruition. While it is necessary to have the skills of a fine artist, a concept artist must also be able to work to strict deadlines in the capacity of a graphic designer. Some concept artists may start as fine artists, industrial designers, animators, or even special effects artists. Interpretation of ideas and how they are realized is where the concept artist's individual creativity is most evident, as subject matter is often beyond their control.
---
Prometheus
---
Production designer Arthur Max led the film's design. His art team were tasked with deconstructing
the art and visuals of Alien and reverse-designing them for the earlier-time setting of Prometheus. Influence was drawn from the work of Alien creature designer H. R. Giger, and designers Ron Cobb and Chris Foss, including their designs for that film which Scott had been unable to develop at the time.
---
Aliens: Colonial Marines
---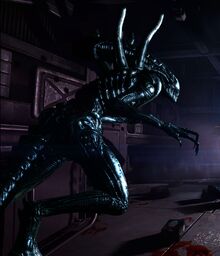 The development team took great pains to recreate the vehicles and settings of the films by
using original set designs to recreate the exterior and interior of the Sulaco and LV-426. Concept artist Syd Mead, who had worked on Aliens, was hired to design areas of the Sulaco that did not appear in the film but would be used in the game.
---
Alien Breed
---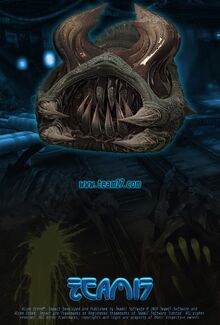 Alien Breed was based heavily and unofficially on the
Alien films
, specificially
Aliens with Rico Holmes design artist interpreting elements of Aliens for the first Alien Breed games and concept artists kinda nasty, Nick Gomersall and Jon Beeston on the later Alien Breed games.
---
Aliens Cruicible
---
A role-playing game based on the Alien film franchise which was to be released on PC, X360 and PS3,
but was officially cancelled in June 2009 by Sega.

Sega announced that they suspended development on the game before finally cancelling it in favour of their Aliens v Predator 3 game, later that year AvP 3 concept art was released.
---
Alien v Predator
---
The concept of Alien vs. Predator originated from the Aliens versus Predator comic book in 1989.
Influenced by the work of Erich von Däniken and Aztec mythology, Anderson had the Predators come to Earth in spaceships and teach humans how to build pyramids. As a result they were treated as gods.
---
Aliens v Predator: Requiem
---
Justin Murray and Farzad Varahramyan designed concepts for the Predalien, a creature first seen in a film, with Michael Broom for creature design, Chris Howe for the design of Wolf's mask and weapons, Chris Ayers design, Rob Olsson for equipment, creature and alien world design, Janine Pauke for pyramid design and Dark Hoffman and Alp Altiner for predator ship design.
---
Alien
---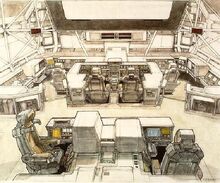 Dan O'Bannon introduced Scott to the artwork of H. R. Giger, both of them felt that
his painting Necronom IV was the type of representation they wanted for the film's antagonist and began asking the studio to hire him as a designer.
Scott flew to Zürich to meet Giger and recruited him to work on all aspects of the Alien and its environment including the surface of the planetoid, the derelict spacecraft, and all four forms of the Alien from the egg to the adult.
Dan O'Bannon brought in artists Ron Cobb and Chris Foss (with whom he had worked on Dark Star and Dune, respectively) to work on designs for the human aspects of the film such as the spaceship and space suits. Cobb created hundreds of preliminary sketches of the interiors and exteriors of the ship, which went through many design concepts and possible names such as Leviathan and Snark as the script continued to develop. The final name of the ship was derived from the title of Joseph Conrad's 1904 novel Nostromo, while the escape shuttle, called Narcissus in the script, was named after Conrad's 1897 novella The Nigger of the 'Narcissus'. The production team particularly praised Cobb's ability to depict the interior settings of the ship in a realistic and believable manner.
---
Alien 3
---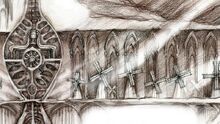 Mike Worrall worked on concepts for the film with H.R. Giger returning as creature designer and set designs by Lebbeus Woods and Stephan Ellis.
Alien 3 went through a number of edits, an early script written by science fiction author William Gibson focused on Hicks and Bishop as main characters. In this version the Sulaco is boarded and Bishop is taken with the Aliens exhibiting airborne virulent contagions.
In the next script Eric Red, writer of the cult horror films opened with a team of Special Forces marines boarding the Sulaco unarmed and finding that all the survivors of the LV-426 mission had fallen victim to the aliens
In David Twohy's version, it featured as a prison planet, which was being used for illegal experiments on the aliens for a Biological Warfare division, different Aliens like the Rogue Alien, Spike Alien and Alien chameleon appeared, this included the "Newborn" (used later in Alien Resurrection) called the "Newbreed".
A story by Vincent Ward with co-writer John Fasano had Ripley's escape pod crash landing on a monastery-like satellite, which had parts of its interior both wooden and archaic in design.
Finally producers Walter Hill and David Giler took control of the screenplay themselves, melding aspects of the Ward/Fasano script with Twohy's earlier prison planet screenplay to create the basis of the final film.
---
Alien Resurrection
---
Nigel Phelps initially designed a circular spaceship but Jean-Pierre Jeunet decided that it wouldn't be capable with the initial filming which required a pull back shot from the Auriga. So with only 3 days before final designs needed to be given in for produced, concept artists Jim Martin, Sylvain Despretz, Nigel Phelps and Bill Badalato designed 20-30 different designs before Jean-Pierre Jeunet decided on the final one.
The spin-off game had gone through a number of changes before finally coming together when production demonstrated a claustrophobic first-person view for negotiating vents. Well behind schedule, the team worked long hours to reconstruct the game as a first-person shooter, and finally released it. The opening title sequence and ending movie survived from the first version of the game, but little else.
In the game DiStephano voiced by Raymond Cruz and Christie voiced by Gary Dourdan saw a reappearance with Steven Gilborn as FA/TH/ER.
---
Predators
---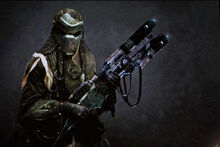 Berger, who worked with Winston on the original Predator, stated that the studio is reprising the original
Stan Winston design of the Predator in the film, saying "We wanted to have the Predator look as it did in the original film. We went back and looked at the original...everyone's going to be very happy that we've been very faithful to the Stan Winston designs." In addition to the original Predator designs, the film features many new creatures never before seen in a Predator film, such as a new breed of Predators that belong to a different tribe, alien creatures that have been domesticated by the Predators for use in hunting, and other alien creatures that have been brought to the planet by the Predators to be used as prey.
---
Artists
---
Aliens: Colonial Marines
Syd Mead, concept artist
Kale Menges, aliens concept artist
Ryan Hawkins, set, lighting and environment concept artist
Ignacio Bazán Lazcano, concepts and environments
Pablo Palomeque installation concept artwork. Jim Martin environment concept artist
Adam May, characters and their equipment
Mark Harrison paint artist
Udell Infante

Alien: Isolation
Bradley Wright, concept and illustration artist for Creative Assembly Alien IP
Daniel Hyun Lim, prop and set concept artist
Sarah Ford, concept design

Aliens Cruicible
Charles Lee, concept and illustration artist

Aliens v Predator 3
Damien Murphy, concept artist, GUI artist, 3D enviroment artist, illustrator, character design, digital art

Alien Breed
Nick Gomersall, concept artist, illustrator
Alien Breed: Impact, by kinda nasty concept artists
Alien Breed: Assault, Jon Beeston concept artist
Alien Breed, Martyn Brown and Rico Holmes design artists
Alien Breed II: The Horror Continues, Rico Holmes artist
Alien Breed: Tower Assault, Rico Holmes artist
Alien Breed 3D, Andrew Clitheroe, Michael Green, Charles Blessing, Pete Lyon artist
Alien Breed 3D II, Andrew Clitheroe, Michael Green, Charles Blessing artist

Aliens: Infestation
Cole Phillips, lead designer

Alien v Predator Jaguar
Tony Harrison-Banfield, concept artist
Stuart Wilson, concept artist
Jeffery Gatrall, concept artist
Keoni Los Banos, concept artist

Alien
Ron Cobb, interior and exterior of Nostromo, interior of Narcissus
Chris Foss, spacecraft design
H.R. Giger, creature and set design
Graham Langridge, USCSS Nostromo schematics

Aliens
Syd Mead, Drop ship and Sulaco design
James Cameron, Alien Queen, Power Loader and Sulaco
Graham Langridge, USS Sulaco schematics

Alien 3
Mike Worrall, concept artist
H.R. Giger, creature design
Lebbeus Woods, architectural designer
Stephan Ellis, set design
Alternative version
Vincent Ward, concept artist
Mike Worrall, concept artist
Lebbeus Woods, architectural designer

Alien Resurrection
Marc Caro, costume conceptual artist
Jim Martin, spacecraft design
Sylvain Despretz, spacecraft design
Nigel Phelps, spacecraft design
Bill Badalato, spacecraft design

Alien v Predator
Randy Bowen, concept artist
Richard Bennett, set design
Carlos Huante, predator design
Joseph C Pepe, predator weapons
Kurt Van Der Basch. pyramid design
Chris Ayers, character design

Aliens v Predator: Requiem
Justin Murray, Predalien design
Dark Hoffman, ship and set design (environment and concept)
Chris Howe, the design of Wolf's mask and his weapons
Michael Broom, creature design
Farzad Varahramyan, Predalien design
Rob Olsson, equipment creature alien world design
Alp Altiner, predator ship design
Janine Pauke, pyramid design
Chris Ayers, design

Predator
Stan Winston, predator design

Predator 2
Stan Winston, weapon and predator design
Mark McCreery, weapon design

Predators
Michael Broom, creature design
Alex Toader, creatures and predators design
John Wheaton, predators design
Joseph C Pepe, set design masks weapons design

Prometheus
Ivan Manzella, creature concept artist
Steve Messing, Deacon concepts and visual effects art director
Michael Havart, at MPC, Derelict's docking bay
David Levy, a senior concept artist set, Deacon concepts, spacesuits and vehicles
Neville Page, small and adult Trilobite concepts, Deacon and Engineer concepts
Ron Cobb, interior and exterior of Derelict from Alien
Chris Foss, spacecraft design
H.R. Giger, Deacon concepts and Ultramorph (pre Deacon) unused concept
Martin Rezard, Hammerpede concepts
Julian Caldow, and set design for Prometheus and Derelict
Ben Proctor, concept artist Prometheus exterior/interior, Jockey's Chair, Costumes/Props/Rovers
Alex Kozhanov exterior derelict concept artist
Andrew Palmer, set design art director
Carlos Huante, Hammerpede concepts
Dan Burke, design
Gerald Blaise, at MPC, engines and the body for Prometheus
Paul Catling, design
Matthew Savage, costume design
Ivan Weightman, design

Aliens Armageddon
Scott Pikulski Illustrator, Game Designer
Doozy Studios
Jon Cukjati level designer (Play Mechanix)
Sharon Bednarek concept, FX and level design

Comics
Steambot Studios, Prometheus concept art.
David Palumbo, Aliens and Prometheus artwork
Alex Maleev, Predator artwork
E.M. Gist, Aliens v Predator artwork
Prometheus: Fire and Stone, Juan Ferreyra, illustrator
Aliens: Fire and Stone, Patric Reynolds, illustrator
Aliens vs. Predator: Fire and Stone, Ariel Olivetti, illustrator
Predator: Fire and Stone, Chris Mooneyham, illustrator

---
Ad blocker interference detected!
Wikia is a free-to-use site that makes money from advertising. We have a modified experience for viewers using ad blockers

Wikia is not accessible if you've made further modifications. Remove the custom ad blocker rule(s) and the page will load as expected.