Predators
---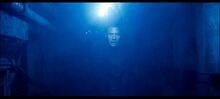 Predators is a 2010 American science fiction action film directed by Nimród Antal and starring Adrien Brody, Topher Grace, Alice Braga, Walton Goggins, Laurence Fishburne, Danny Trejo, Mahershalalhashbaz Ali, Oleg Taktarov and Louis Ozawa Changchien.
Distributed by 20th Century Fox and is the fifth film in the Predator franchise, following Predator (1987), Predator 2 (1990), and the crossover films Alien vs. Predator (2004) and Aliens vs. Predator: Requiem (2007).
---
Actors
---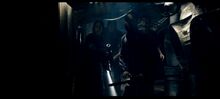 Alice Braga as Isabelle, a sniper from the Israel Defense Force and a CIA black operations assassin.
Adrien Brody as Royce, an American ex-military soldier turned mercenary.
Topher Grace as Edwin, a doctor and psychopathic murderer.
Walton Goggins as Stans, a death row inmate from San Quentin State Prison.
Mahershalalhashbaz Ali as Mombasa, a Sierra Leone Revolutionary United Front.
Louis Ozawa Changchien as Hanzo, a Yakuza enforcer.
Danny Trejo as Cuchillo, a ruthless enforcer for the Los Zetas Mexican drug cartel.
Oleg Taktarov as Nikolai, a Russian commando from the Spetsnaz Alpha Group who was fighting in the Second Chechen War.
Laurence Fishburne as Noland, a United States Army Air Cavalry soldier.
Carey Jones as the Tracker Predator.
Brian Steele as the Berserker Predator and Falconer Predator.
Derek Mears as the Classic Predator.

---
Stunt doubles/Stand-in's
---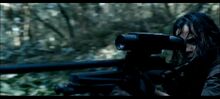 Joey Anaya - stunt double for Adrien Brody.
Dana Reed - stunt double for Alice Bragga.
Candy Tjarks - stand-in for Alice Braga, Hawaii.
Andrew Varenhorst - predator photo double and stand in.
Heath Allyn - stand-in for Walton Goggins.
Nathan Bayless - stand-in for Topher Grace.
Shawn Lathrop - stand-in for Danny Trejo.
Eric Andersen - stand-in for Oleg Taktarov.

---
Ad blocker interference detected!
Wikia is a free-to-use site that makes money from advertising. We have a modified experience for viewers using ad blockers

Wikia is not accessible if you've made further modifications. Remove the custom ad blocker rule(s) and the page will load as expected.