Prometheus
---
In Prometheus (film) a team of scientists journey through the universe on the spaceship "USCSS Prometheus" on a voyage to investigate Alien life forms. The team of scientists becomes stranded on an Alien world (LV223), and as they struggle to survive it becomes clear that the horrors they experience are not just a threat to themselves, but to all of mankind.
As two superpowers fight each other on Earth for the remaining natural resources throughout the solar system, a spaceship, known as the Prometheus, is sent to the distant planet of LV223 but problems arise when the crew discover the uninhabitable planet's indigenous life of bio-mechanoid killers known as Terraformers and their bio-weapons that could bring an end to life.
Prometheus is the fifth film in the Alien franchise, following Alien (film), Aliens (film), Alien 3 (film) and Alien Resurrection (film).
At least one further sequel following on from Prometheus (film) is planned, following on from Shaw departing with David for a Planetoid in another Derelict from one of the Alien Temples.
---
Locations
---
Canada
Pinewood Toronto Studios, Toronto, Ontario, Canada for production and filming.
England
MPC FX Studios in London for FX for the Derelict, LV223, Alien Temple and USCSS Prometheus.
Pinewood Studios, Iver Heath, Buckinghamshire, England for the Derelict, LV223, Alien Temple and USCSS Prometheus.
Iceland
Dettifoss, Vatnajökull National Park in Northeast Iceland for exteriors and landscapes.
Landmannalaugar, Iceland's highlands for exteriors and landscapes.
Hekla in Iceland for filming and for prologue.
Scotland
The Old Man of Storr, north end of Loch Leathan, Scotland for exteriors and landscapes, opening scene.
National Scenic Area of Ben Nevis and Glen Coe, Scotland for exteriors and landscapes, for prologue.
Black Park Country Park, Buckinghamshire for exteriors and landscapes.
Spain
Ciudad de la Luz audio visual complex in Alicante, Spain for USCSS Prometheus interior and Derelict exterior production and filming.
Jordan
Wadi Rum valley Jordan for exteriors and landscapes.
---
On Set
---
Director/Producers:
Director/Producer Ridley Scott and Producers David Giler, Walter Hill, and Nikolas Korda.
Cinematography:
Cinematography by Dariusz Wolski, and camera operators Gary Spratling, Graham Hall, David Morgan and Daniele Massaccesi.
---
Development
---
James Cameron dropped the idea of directing after learning that Fox was pursuing Alien vs. Predator spin-offs. However Ridley Scott and Sigourney Weaver had expressed interest in returning to the series and both supported the idea of exploring beginnings. Scott furthered that the most logical course would be to explore the origins of the "space jockey", who only had a brief appearance in Scott's 1979 science fiction horror film Alien, as the derelict spaceship's deceased pilot, as well as the Aliens, should the series continue.
In May 2009, Fox first reported the project as a "reboot" to the Alien franchise, which was soon afterwards expressed as a then untitled prequel to Alien. Being so, Scott set the story in 2085, 30 years prior to Alien—Weaver's character, Ellen Ripley would not play a role, neither would the "original" Alien creature. The film would explore the nature, origin, and "staggering civilization" of the alien race of the space jockey, as well as the beings' fictional anthropogenic role in the origins of humanity on Earth.
Scott's prequel, which originally went through several drafts, featured a female lead character and would also focus on terraforming and the fictitious Weyland Industries before its merger with the Yutani Corporation. Scott furthered that the original Zeta II Reticuli planetary system would be part of the prequel story.
Initailly called "Paradise" before being confirmed as Prometheus, with a budget of $120 million.
---
Production
---
Filming began with three weeks of shooting on 7
sound stages at Pinewood Toronto Studios in Ontario. By April 2011, production moved to Shepperton Studios in Surrey, England, part of the Pinewood Studios group, where Scott used 5 sound stages and outdoor areas for filming, including the 007 Stage. This involved the filming of the interiors and corridors of the Derelict on specially made sets.
In July, filming moved to Iceland for 2 weeks, commencing at the base of the active Hekla volcano in southern Iceland on July 11, 2011. Filming also took place at one of the most powerful waterfalls in Europe, the Dettifoss waterfall in the Vatnajökull National Park in the north of Iceland. In September 2011, filming moved to the Ciudad de la Luz audiovisual complex in Alicante, Spain, to recreate the ship of the protagonists in the film, This involved the filming of the interiors of Prometheus on specially made sets.
with filming occurring in a large water tank at the complex and a nearby beach in Alicante for the 3 months.
Additional scenes were filmed during January 2012 in Isle of Skye, Scotland for the being of the film.
---
Post Production
---
In July 2011, Scott stated that he was filming Prometheus
with both teen-friendly 'PG-13' and adult-only 'R' ratings in mind, allowing the more adult content to be cut if necessary without harming the overall presentation.
Prometheus was originally scheduled to be released on March 9, 2012, in the United States, but in January 2011, the date was pushed back to June 8, 2012. The film will be simultaneously released in IMAX theaters in 3D.

During his March 17, 2012, WonderCon presentations, Scott stated that some of the questions presented in the film are left unanswered and could be answered in a sequel, saying "If we're lucky, there'll be a second part. It does leave you with some nice open questions."
---
Trivia
---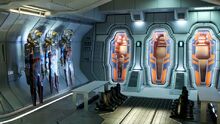 Principal photography began in August 2010.
Filming began in March 2011 using Red Epic cameras fitted with Element Technica Atom 3D rigs recording to 225mb SSD cards. Prometheus was filmed in 3D and has an expected 15 rating. The cameras are Red Pro 5.0, meaning that Prometheus was filmed in 2.4:1 at 60fps with a 5k widescreen frame size. The frame sizes were resized in certain areas so they could blend with post production effects, resizing to 2k and 4k frame sizes.
Prometheus is rated 'R' in the US and '15' in the UK.
Marc Streitenfeld, who worked on several of Ridley Scott's previous films, will be composing the musical score for Prometheus. Scott processed Streitenfeld's score at Abbey Road Studios in London, England.
Production Designer Arthur Max designed all the ships, alien landscapes, vehicles and pyramid (on H.R.Giger's original design elements) in the film, taking 15 weeks to build and film.
At WonderCon 17th March 2012, Lindelof said "if we're fortunate enough to do a sequel to Prometheus, it will tangentialize even further away from the original Alien".
Ridley Scott stated that the Iceland filming represented the "beginning of time" in Prometheus.
The Iceland shoot involved 160 Icelandic crew members and over 200 imported crew.
Released 1 June 2012 in the UK and 8 June 2012 in the US with other locations following, with the Premiere on 31 May 2012.
---
Terraforming
---
While referring to the developments of Alien Prequel Scott has frequently mentioned a focus on the subject
of terraforming, a central theme in Spaihts' Alien prequel script, it is also a central theme in Spaihts' Shadow 19. Both Alien prequel and Shadow 19 cover the dilemmas of space travel, specifically "time dilation."
In Shadow 19, two superpowers on Earth fight each other for what's left of the remaining natural resources spread out across the solar system. It begins with space battles, sentient machines, mechanoid carnage and off-world battles. One of these superpowers have created and sent a giant terraforming ship to a distant planet. Their hope is to take this living world and reshape it so that humans can live there. This enormous terraforming spacecraft is called "Prometheus" which lands on the planet "Erix," a harsh and uninhabitable planet, it dispenses six smaller mobile units called "Crawlers" which spread across the planet and sow seeds which terraform the planet. The Prometheus in Shadow 19 is connected to Earth by a device called a "Lang Transporter", it allows objects to travel instantaneously from one point to another. There is a problem, one of Prometheus' submachines has broken down so a special science agency sends off-world Marine Corps to repair it via transporters.
---
Ad blocker interference detected!
Wikia is a free-to-use site that makes money from advertising. We have a modified experience for viewers using ad blockers

Wikia is not accessible if you've made further modifications. Remove the custom ad blocker rule(s) and the page will load as expected.