Flame and energy weapons: Alien Shooter
Used for welding metal, but can weld flesh in a pinch.
A standard light pistol, popular in modern armies worldwide.
A standard infantry laser weapon with high accuracy. It can pierce most modern body armors.
The Ion Rifle is one of the latest weapon industry designs. It has a strong beam that can pierce the thickest of armors.
The next generation of plasma guns. Can deal incredible damage to anything in its path.
An ion gun prototype. Its thickened barrel and new cooling system provides a more powerful energy focus.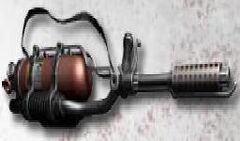 A home - made flamethrower, juryrigged from whatever materials are at hand.
One of the first laser pistols. Not very popular due to its old construction.
A test pulse rifle model developed by the M.A.G.M.A. Energy Corporation.
The latest in the line of heavy power guns.
The most powerful close combat weapon available. This monster has excellent accuracy and deals maximum damage.
This cannon shoots a special chemical that transforms aliens into alien sickles instantly.
Ad blocker interference detected!
Wikia is a free-to-use site that makes money from advertising. We have a modified experience for viewers using ad blockers

Wikia is not accessible if you've made further modifications. Remove the custom ad blocker rule(s) and the page will load as expected.