Gorilla Hybrids also called Gorilla Aliens are hybrid xenomorphs with features of the larger xenomorphs like Smashers and Crushers, keeping features and attacks unique with the xenomorph breed.
Gorilla Hybrids first appeared in comic books and in Kenner toy lines in the expanded universe and Alien v Predator (SNES) in the 1990s then appearing in the game Aliens: Infestation.
Characteristics
Edit
Reference stats table.
Appearance
Edit
Appearances in the following;
Aliens: Infestation
Alien vs. Predator (SNES)

These aliens are similiar with a Crusher xeno but larger, with unique features and attacks for their breed, they are slightly smaller then a Smasher and are greyish green in colour.
Interactions
Edit
Aliens: Infestation
After departing the USS Sulaco for the second time the group of USCMs set course for Phobos and the Special Research Facility on the surface. Part underground this installation is equipped with hanger bays, military barracks and command areas. As a marine continues multiple enemies appear including juvenile Gorilla Aliens and the adult Gorilla Alien.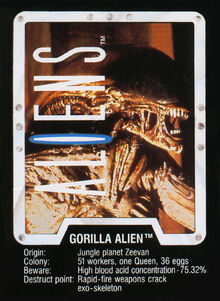 Continuity
Edit
Aliens: Infestation
These Gorilla Hybrids make an appearance in the surface installation having features nearer that of a gorilla then a xenomorph but before long they increase in size similiar with that of a Crusher but still keeping their greyish green colour. The adult Gorilla Alien can jump very high and it uses this as an attack.
These aliens increase in size during the game and later appear aboard the Sulaco in the final stage, they also have increased abilities which are similiar with the warriors and drones as they can climb walls and ceilings and use vents.
Alien vs. Predator (SNES)
The Gorilla Hybrid aliens appears in the game as a level boss with no special attack, it's attack is just jumping on and off screen.
Kenner
Gorilla Hybrids first appeared in comic books and in Kenner toy lines in the expanded universe, these action figures were bundled with a numbered card and comic. According to the bundled cards the Gorilla Alien's planet is Zeevan a distant jungle covered planet.
Alien Status
Edit
Drone
Warrior
Guardian
Praetorian
Queen

References
Edit
Citations
Edit
Footnotes
Edit
Ad blocker interference detected!
Wikia is a free-to-use site that makes money from advertising. We have a modified experience for viewers using ad blockers

Wikia is not accessible if you've made further modifications. Remove the custom ad blocker rule(s) and the page will load as expected.