Leonard Dillon is an inmate in Fiorina 'Fury' 161 Class C Work Correctional Unit in the film Alien 3.
Dillon was one of twenty two inmates at Fiorina 'Fury' 161 Class C Work Correctional Unit.
Characteristics
Edit
Reference stats table.
Appearance
Edit
Appearances in the following;
Alien 3 (film)
Wears a green jacket, grey/brown trousers, gloves and glasses.
Interactions
Edit
Continuity
Edit
Leonard Dillon's character is played by Charles S. Dutton.
Dillon is killed by the Alien in the tunnels of the Class C Work Correctional Unit as he uses himself as bait in the furnace, something that fails and causes the death of other inmates.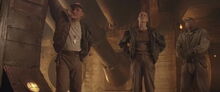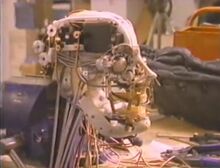 In filming Dillon sometimes wears a full length overcoat, these were made specially for the film from British army surplus tents.
For the fire scene Dillon had a head mask made with a puppeteer control skull underneath, the animatronic unit was controlled on set as the fire started and fellow prisoners were burnt, Dillon continued burning, be it as a puppet.
Production
Edit
Dillon runs things in the correctional unit and is the spiritual leader of the inmates, he also intervenes as the inmates get other ideas. He gets the convicts to follow Ripley's plans and convinces them to use themselves as bait to lure the Alien into the furnace.
At the funeral for Hicks and Newt, he gives a speech and says, "Why the innocent punished? Why the sacrifice? Why the pain? There aren't any promises. Nothing is certain. Only that some get cold. Some get saved. She won't ever know the hardship and grief for those of us left behind. We commit these bodies to the void with a glad heart. For within each seed, there is the promise of a flower, and within each death, no matter how small, there's always a new life. A new beginning."
Post Production
Edit
A number of inmates costumes were reused in other productions like Demolition Man and later were made available for sale.
The film Alien 3 is set after the film Aliens and because shortly afterwards as they escape a fire occurs aboard the Sulaco with Ripley's, Hicks', Newt's and Bishop's stasis units being ejected into the EEV.
References
Edit
Citations
Edit
Footnotes
Edit
Ad blocker interference detected!
Wikia is a free-to-use site that makes money from advertising. We have a modified experience for viewers using ad blockers

Wikia is not accessible if you've made further modifications. Remove the custom ad blocker rule(s) and the page will load as expected.