---
With the release of the Predator 3D Blu-ray (Blu-ray, Digital and DVD) anticipated later this year,
Comic-Con San Diego, California 2013, has featured the booths MGM/ Twentieth Century Fox Home Entertainment (booth 3528) and Twentieth Century Fox (4229) (link). Fox dedicated a jungle-themed booth to the film and it's iconic extra-terrestrial character, as well as being able to pre-purchase a copy of the Blu-ray in two different versions fans could exclusively get a mini figurine featuring their likeness as a victim of a Predator.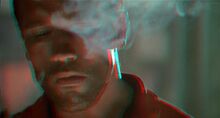 The film was screened at Comic-Con, but if you are interested what can be expected of a film in 3D then check the 3D Gallery, or some of the other 3D galleries of the other Alien, Predator and Alien v Predator franchised films.
Also anticipated later this year is a Predator Pinball arcade game, licensed and theme based upon the movie of the same name. It has recently got a theme redesign with characters from the film but is also a limited 250 unit production.
---
Predator CollectablesEdit
---
Various Predator collectables due for release 2013/2014:
Big Red Predator by NECA
Big Red Predator and Dutch by NECA
Albino Predator, Wasp from Batman: Dead End, Lost Predator (Battle Armored) and Dutch (thermal image) by NECA
Elder Predator by NECA

Following the 25th anniversary of Predator in 2012, NECA toys released Predator series 8 (Jungle Hunter, Dutch patrol, Dutch extraction), 2013 release is Predator series 9 (Dutch jungle disguise, Classic Predator water emergence, Dutch jungle encounter) and Predator series 10 (Lava Planet Predator, Hive Wars Predator, and Nightstorm Predator).
---
Collectables 2013/2014Edit
---
Various Alien collectables due for release 2013/2014:

Bishop by NECA
Marines v Aliens by NECA
Egg and Face Hugger by NECA
Aliens: Genocide by NECA
Aliens series 1 (Hicks, Alien Warrior, Hudson)
Aliens series 2 (Alien, Alien Warrior, Colonial Marine Sgt. Windrix)

Alien ReAction Figures (4 sets) by Super-7 (Alien & Kane, Ripley, Ash, Alien, Kane and Dallas).
Prometheus series 3 assortment Chair Suit and Pressure Suit Engineers in holographic form by NECA.

---
---
Released or soon to be released DVD/Blu-rays:
---
Ad blocker interference detected!
Wikia is a free-to-use site that makes money from advertising. We have a modified experience for viewers using ad blockers

Wikia is not accessible if you've made further modifications. Remove the custom ad blocker rule(s) and the page will load as expected.