Name
Predator - Jaguar is a predator on Golgotha a Colonial Marines Training Base. A predator arrives on Golgotha having followed the Alien Craft being towed back to the Training Base by the U.S.C.M. Irata.
Characteristics
Reference stats table.
Appearance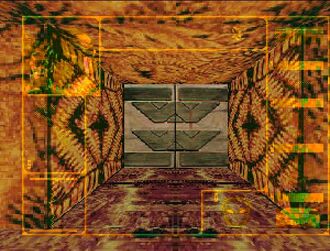 Appearances in the following;
barracks
med lab
armoury
command center
officers area
quarters
library
captains quarters
brig
air lock
predator's ship
barracks
canteen
kitchen
training maze
docking bay
alien ship

Weapons
Plasma Castor, Spear, Disc and Wrist Blades.
Interactions
A Predator starts it's missions in a Landing Bay on Sub Level 1 after docking it's Predators Ship, from here it's mission is to collect the skull of the Alien Queen. In gameplay a predator makes his way about the facility killing Aliens and Marines and on to the Queen killing her for a trophy.
Continuity
A ship infested with aliens is found floating near the outer-space training facility. A Chatterjee class craft tows the Alien Craft back to the training base, and soon after a Predators Ship arrives and docks at the training base.
Timeline
The three seperate missions for the different characters coincide at the same time, although a player plays with one character at a time.
See also
Golgotha
Alien vs Predator - Jaguar
Alien
Lance J.Lewis

References
Citations
Alien vs Predator (Jaguar game)

Footnotes
Ad blocker interference detected!
Wikia is a free-to-use site that makes money from advertising. We have a modified experience for viewers using ad blockers

Wikia is not accessible if you've made further modifications. Remove the custom ad blocker rule(s) and the page will load as expected.