Prometheus: Omega
Description
Edit
Prometheus: Omega issue release 11 Feb 2015. Omega is a culmination of the Fire and Stone issues one, two, three and four from Aliens, Prometheus, Aliens v Predator and Predator.
Prometheus: Omega's starts April 2219 on LV223. In a search for food, Galgo and Angela find new creatures but while deciding if to shoot them they attack, moments later Ahab intervenes rescuing them.
Official Prometheus: Fire and Stone Omega story (11 Feb 2015); 'Angela and her fellow survivors are stranded on LV-223, but their mission is not over yet. The answer to their quest could be hidden deep underground, but the strangest nightmare of all stands in their way.'

Agustin Alessio artist has illustrated for Star Wars: Legacy with Kelly Sue DeConnick has written for Captain Marvel and Avengers Assemble for Marvel Comics.

The comic includes;
Story written by Kelly Sue DeConnick
Artwork by Agustin Alessio
48 pages

Continuity
Edit
Author Kelly Sue DeConnick and illustrator Agustin Alessio
The Fire and Stone series occur in and about 2219 after USCSS Prometheus lands on LV223 in the film Prometheus, and Aliens: Fire and Stone series occur in and about the film Aliens on LV426 and LV223.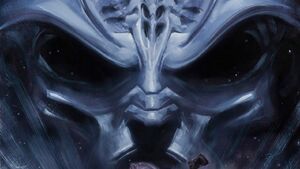 Prometheus
Predator
Aliens
Alien v Predator

References
Edit
Citations
Edit
Prometheus Omega
Kelly Sue DeConnick

Footnotes
Edit
Ad blocker interference detected!
Wikia is a free-to-use site that makes money from advertising. We have a modified experience for viewers using ad blockers

Wikia is not accessible if you've made further modifications. Remove the custom ad blocker rule(s) and the page will load as expected.