Crysler Suits
---
Spacesuits in Prometheus are referred to as Crysler Suits, the crew are equipped with a varity of space suits. Weyland Personnel and Mercenaries are equipped with blue/black Chrysler Suits, while Mechanics are equipped with silver/red. A form of Hazmat Suit that are red feature in the film but are not used, used are held on deck 1 near the MedPod Bay.
---
RT01/02
---
RT01 and 02 are all-terrain vehicles, light and maneuverable personnel and equipment movement vehicles an other ATV the RC01 features in the film Prometheus but only appears once in the Cargo Bay.
---
LV223
---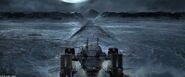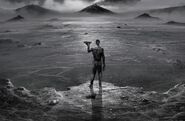 Alien Gods known as LV223 is a lava rock covered planet and features in the film as the location where USCSS Prometheus lands as the crew search for answers to their beginnings.
---
Alien Temple
---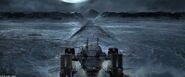 Ampule Room Archway concept, this room is part of the Alien Temple and also features as the Derelict's Orrery doorway.
---
USCSS Prometheus
---
USCSS Prometheus is a spacecraft in service for Weyland-Yutani. It is the spacecraft that transports the crew to LV223 in the film 'Prometheus'.
Designs and concepts of the Holotab Display Unit, Mess Hall, Corridors and MedPod.
---
Derelict
---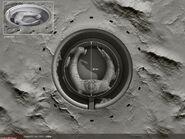 Derelict is an alien spacecraft used by Terraformers in the film Alien on LV426 and the film Prometheus on LV223. An early design of the Derelict underground and Terraformer in the Derelict's Orrey.
---
Ad blocker interference detected!
Wikia is a free-to-use site that makes money from advertising. We have a modified experience for viewers using ad blockers

Wikia is not accessible if you've made further modifications. Remove the custom ad blocker rule(s) and the page will load as expected.