Prometheus UI DevelopmentEdit
---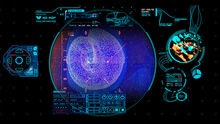 Prometheus filming included features like 'User Interface' (UI) and 'Head-Up Displays' (HUD) as part of the crews equipment and display screens, features which were added in Production and Post Production.
Created almost exclusively by Territory Studios and Inventing Interactive, companies which have been involved previously in Video Games and Films, working together with Prologue Films.

"Ridley Scott wanted a more high tech look to the screens in this film from the original Alien film. This ship was meant to feel much more advanced as it represented an expensive research facility. "
"Bold crosshairs in the corners of screens, and simple iconography design throughout are elements from the film Alien."
---
Development SketchesEdit
---
Featuring hundreds of UI motion screens and HUD overlays created by Territory Studios and Inventing Interactive  in the film for screens on the bridge, stasis units, medical areas, vehicle displays and in-helmet display. Pre animated visuals of the terrain features and landing sites were mapped in loops and played on set in real time when filming, filming effects being added post production for stasis cover units, holotab unit and in-helmet HUD visuals displaying telemetry, life signs and bio-readouts.
---
Ad blocker interference detected!
Wikia is a free-to-use site that makes money from advertising. We have a modified experience for viewers using ad blockers

Wikia is not accessible if you've made further modifications. Remove the custom ad blocker rule(s) and the page will load as expected.