Name
Ravel is a Pilot aboard ship in Prometheus (film).
Chance, Janek and Ravel are the flight crew aboard Prometheus. Ravel and Chance's seats are in front of Janek's on the Bridge Deck, with Vickers' to one side of Janek's, which they take up on approach to LV223.
Characteristics
Reference stats table.
Appearance
Appearances in the following;
Prometheus (film)
Alien: The Weyland-Yutani Report

Features
Interactions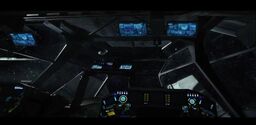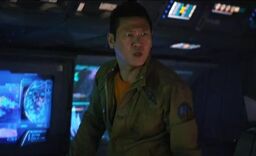 Once out of stasis, Ravel with help from Janek lands Prometheus on LV223. Slowly manoeuvring Prometheus around the Alien Gods' planet, which features mountains, hills and canyons, finally choosing a landing on a Nazca Line feature in front of a row of Alien Temples.
During their time on LV223, Ravel stays aboard Prometheus. As a pilot he monitors Prometheus' flight controls and systems as required, keeping Prometheus ready for take off.
Later when Shaw returns from the Derelict, Ravel, Janek, Chance and Vickers take off on a collision course with the launching Derelict, colliding in a huge explosion resulting in the Derelict crashing back on LV223. As it is rolling on the surface the Derelict crushes Vickers who had ejected before impact in an Ejection Pod.
Continuity
Prometheus (film)
Ravel's character is played by Benedict Wong aboard the Prometheus.

Ravel, Janek and Chance and the remaining crew die in the collision with the Derelict.

Alien: The Weyland-Yutani Report
The following is a description from the book about crew members aboard Prometheus.
Pilot/Navigator Benedict Ravel. Worked with Captain Idris Janek before for 7 years.
Timeline
The crew of Prometheus land on LV223 during 21st Dec 2093 after first discovering the Terraformers star map in various locations on Earth in 2089.
See also
References
Citations
Footnotes
Ad blocker interference detected!
Wikia is a free-to-use site that makes money from advertising. We have a modified experience for viewers using ad blockers

Wikia is not accessible if you've made further modifications. Remove the custom ad blocker rule(s) and the page will load as expected.