Resolute was Weyland's W-Y FTL Transport, similiar with other Weyland-Yutani Faster-Than-Light Starships that were similiar in the design of the USS Sulaco. Several of these appear in the Aliens: Colonial Marines campaigns used for troops and equipment.
Weyland's W-Y FTL appears in the level Stasis Interrupted, aboard with him is Hicks and Stone who after escaping the Sulaco reached Fury 161 and were captured by PMCs. In the interrogation aboard the Resolute, Stone is shot and killed and a Weyland personnel called Levy sides with Hicks and the two escape.
Characteristics
Edit
Reference stats table.
Appearance
Edit
Appearances in the following;
Aliens: Colonial Marines
Interactions
Edit
The W-Y FTLs are used by Weyland-Yutani personnel on LV426 and appear in the levels Derelict Reclaimed, Home and Stasis Interrupted, with the level Home being played aboard the last FTL spacecraft and part of the level Stasis Interrupted being played on Weyland's W-Y FTL.
In the level Stasis Interrupted, Stone is killed by Weyland and Levy a Weyland personnel decides to side with Hicks who he releases and then tasked with escaping the Resolute via an EEV. A short journey to the surface of LV426 which leaves the EEV in flames but surviving their next task was to reach the communication array in the part built facility not far from the Derelict.
Continuity
Edit
W-Y FTLs only appear in the Aliens: Colonial Marines campaigns. Although these spacecrafts are similiar with the Sulaco they are shorter and are capable of descending and landing on the surface of a planet unlike the Sulaco or Sephora. They are configured with their cargo bays in the aft area near the engines and are lightly armed as they are used for scientific research.
It is shown in the level Stasis Interrupted that Weyland was talking to Ripley in the film Alien 3 and not Michael Weyland. After Ripley dies, Hicks and Stone are captured and brought aboard Resolute and not the USS Patna as in the film Alien 3 which doesn't appear in the game.
The Resolute continues to remain a short distance above the surface as Hicks and Levy make their way for the communication array. The EEV used by Hicks and Stone wasn't equipped with stasis units, these featured just an area to stand for personnel.
Flight Deck
Command
Control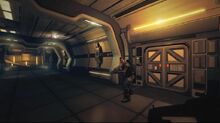 Main Corridor

Elevators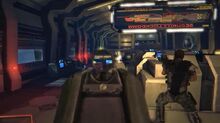 Air Control

Hangers
Flight Bays
EEVs
Dropships

The events of the game Aliens: Colonial Marines are set between those of the films Aliens and Alien 3 but diverge from the film Aliens and over lap the film Alien 3.
References
Edit
Citations
Edit
Footnotes
Edit
Ad blocker interference detected!
Wikia is a free-to-use site that makes money from advertising. We have a modified experience for viewers using ad blockers

Wikia is not accessible if you've made further modifications. Remove the custom ad blocker rule(s) and the page will load as expected.