Sarcophaguses are used by Terraformers in the Derelict's Orrery aboard craft on LV223.
Description
Edit
Four Sarcophaguses surround the Derelict's Orrery around a pilot's chair and cannon mechanism which rises from beneath the floor. These act as stasis units capable of keeping a Terraformer alive for a great length of time, with tubes supplying oxygen and nitrogen connecting to the Terraformers bio-suit.
Characteristics
Edit
Reference stats table.
Appearance
Edit
---
Appearances in the following;
Prometheus (film)

Variations
Edit
Interactions
Edit
David first finds the Terraformer in a Sarcophagus when journeying into the unsurveyed area of the Alien Temple. Later David, Weyland, Sheppard, Ford, and Shaw awaken the Last Engineer from his stasis, this causes the Terraformer to start killing the crew.
Continuity
Edit
There are no Sarcophaguses in the film Alien (film).

Extended and deleted scenes include the Terraformer and David having an extended conversation before setting about killing the crew.
Alex Kozhanov, Ben Proctor, Julian Caldow and Steve Messing were the concept artist for the film, working on set design for the Derelict, drawing on influences from H.R.Giger's, Ron Cobbs' and Chris Foss' designs from Alien which themselves were carried through into Aliens. Alex Kozhanov and Matt Middleton at MPC digitized the concepts with Caroline Delen adding the textures which they then used as reference to built the sets.
Production
Edit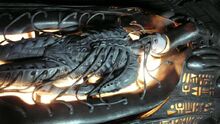 Like Prometheus' bridge the Derelict's Orrery was built on a stage at Pinewood studios which was similiar in construction to the Derelict's Orrery from the film Alien. Four sarcophaguses sat opposite each other with one constructed in more detail, and hieroglyphics markings which were back lit lined the unit with a movable lid.
References
Edit
Citations
Edit
Ad blocker interference detected!
Wikia is a free-to-use site that makes money from advertising. We have a modified experience for viewers using ad blockers

Wikia is not accessible if you've made further modifications. Remove the custom ad blocker rule(s) and the page will load as expected.