Shotguns: Alien Shooter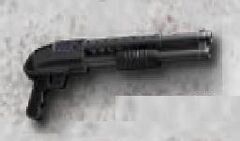 One of the most popular and versatile US-made pump action shotguns.
A smooth-bore shotgun developed at the end of the 1980s by Beretta.
An Italian shotgun with a folding front sight and built-in weaver-style rails on the top of the receiver. Overall, an easy shotgun to handle.
A special nozzle neutralizes this shotgun's blast. It has a high rate of fire thanks to a reinforced barrel and a trigger modification.
A gas-operated, fully automatic shotgun with a floating barrel and revolver-type detachable clips, called "Ammo Cassettes".
The next generation of pump action shotguns; the DM5 uses an eight-round magazine and a short barrel. This is an optimal weapon for close encounters.
A modified DM5. It has a prolonged barrel and cooling radiator, which provides a high rate of fire. High quality optical sights enhance accuracy.

A home-made sawed-off shotgun with two shortened barrels. Good for clearing rooms in short order.
Ad blocker interference detected!
Wikia is a free-to-use site that makes money from advertising. We have a modified experience for viewers using ad blockers

Wikia is not accessible if you've made further modifications. Remove the custom ad blocker rule(s) and the page will load as expected.