The Subterranean Drill was left abandoned on the Game Reserve planet long before any of the group arrived and before Noland who used it as a home keeping him safe from Predators and Predator Dogs.
The Drill retained some of it's power allowing for minimal lighting, Noland had explained he had been on the Game Reserve living in the Subterranean Drill for 7 - 10 hunting seasons.
Characteristics
Edit
Reference stats table.
Appearance
Edit
Appearances in the following;
Predators (film)

Installations
Edit
Interactions
Edit
Predators (film)
Noland brings Stans, Royce, Isabelle, Nikolai, Hanzo and Edwin back to the Subterranean Drill explaining how he survived all these years.
After, he sets a fire causing Royce to fire a grenade, this then attracts the Tracker, they escape from the Drill with Nikolai killing the Tracker in a fire ball.
Continuity
Edit
Filming as the group approached and exited the Subterranean Drill was at Mauna Kea, Hawaii, with some at the Troublemaker Studios, Texas which also included the set for the Subterranean Drill, with the exterior being produced digitally by Hybride Technologies VFX.
Part of set shooting including filming in a hanger at Troublemaker Studios, this included the entrance and rocky exit that the survivors used to escape. As in the camp fake rock and plants were used, dressing the set.
Production
Edit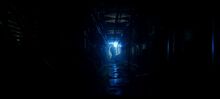 Here Noland brings the survivors back were he explained how he had survived only to try and kill them with smoke fumes during the night.
References
Edit
Citations
Edit
Predators (film)
Predators articles
Cinefantastique Online
Predators™/Predators™ Lite
Footnotes
Edit
Ad blocker interference detected!
Wikia is a free-to-use site that makes money from advertising. We have a modified experience for viewers using ad blockers

Wikia is not accessible if you've made further modifications. Remove the custom ad blocker rule(s) and the page will load as expected.