The Art of Alien: Isolation.
Description
Edit
The Art of Alien: Isolation is a high-end art book featuring over 300 images from the latest game in the critically and commercially acclaimed Alien franchise. Taking players back to the survival horror atmosphere of the first film, Alien Isolation features Amanda Ripley as the hero trying to survive on a wrecked space station.
This book is the ultimate gallery of the game, a must-have for any fan. Andy McVittie has worked in the video games industry for more than twenty years, writing and editing for magazines such as Nintendo Official Magazine and PlayStation Plus.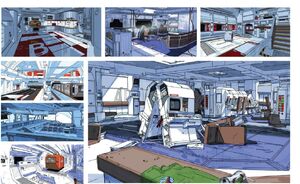 The contents of the book includes;
The book (176 pages, in hardback).
300 Photos.
Concepts.
Behind-the-scenes.
Illustrations.
Other artwork.

Continuity
Edit
Author Andy McVittie
Also available are the following books:
Alien Dairies (2013)
Alien: The Archive (2014)

The limited edition of the book will be limited to 500 units and is bundled with a print signed by concept artist Bradley Wright.
References
Edit
Citations
Edit
Footnotes
Edit
Ad blocker interference detected!
Wikia is a free-to-use site that makes money from advertising. We have a modified experience for viewers using ad blockers

Wikia is not accessible if you've made further modifications. Remove the custom ad blocker rule(s) and the page will load as expected.