The Book of Alien. (New edition 29 May 2012)
Description
Edit
The Book of Alien, by Scanlon & Gross was first released by Heavy Metal Communications in 1979 then rerelease 2012 by Titan Books.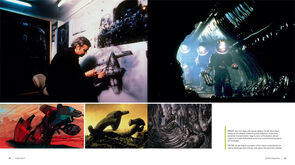 Featuring artwork by H.R. Giger, Moebius, Chris Foss and Ron Cobb with on set photos. The book details the film Alien from it's concept through to final film, also included are unused ideas and the way these ideas evolved and culminated into the final film.
The contents of the book includes;
The book (112 pages, hardback and paperback)
Colour & b/w illustrations & photos
Behind the scenes
Artwork by H.R. Giger, Moebius, Chris Foss and Ron Cobb
Set design and construction

Continuity
Edit
Author Paul Scanlon with Michael Gross as the illustrator
References
Edit
Citations
Edit
Footnotes
Edit
Ad blocker interference detected!
Wikia is a free-to-use site that makes money from advertising. We have a modified experience for viewers using ad blockers

Wikia is not accessible if you've made further modifications. Remove the custom ad blocker rule(s) and the page will load as expected.