Name
Wallace is a Mechanic aboard ship in the film Prometheus. One of 4 aboard ship, they keep the NR6s and RT ATVs running.
Characteristics
Reference stats table.
Appearance
Appearances in the following;
Prometheus (film)
Alien: The Weyland-Yutani Report

Features
Interactions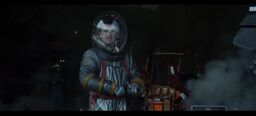 Wallace is in the Cargo Bay when a mutated Fifield attacks and kills him.
Continuity
Prometheus (film)
Wallace's character is played by Eugene O'Hare aboard Prometheus.

Wallace dies after Ray from an attack by a Fifield.

Alien: The Weyland-Yutani Report
The following is a description from the book about crew members aboard Prometheus.
J. Wallace Sa-7625 - mechanic.
Timeline
The crew of Prometheus land on LV223 during 21st Dec 2093 after first discovering the Terraformers star map in various locations on Earth in 2089.
Prometheus (film) is set about 30 years before Alien (film).
See also
References
Citations
Footnotes
Ad blocker interference detected!
Wikia is a free-to-use site that makes money from advertising. We have a modified experience for viewers using ad blockers

Wikia is not accessible if you've made further modifications. Remove the custom ad blocker rule(s) and the page will load as expected.